Last Updated - July 2009 | Sightings Page 2
---
Sightings has moved! Check out the new home here.
---
Patent
Michael H. kindly emailed me a copy of a patent that looks quite familiar to the X-2. Not being a patent or engineering historian, it looks very similar to the X-2, but has its differences. Anyone have any background on patent on 174,400?
New Books
X-2 Painting
New X-2 artwork is now available thanks to artist Douglas Castleman. For more information on this print, ordering, and other artwork, visit www.dougncart.com.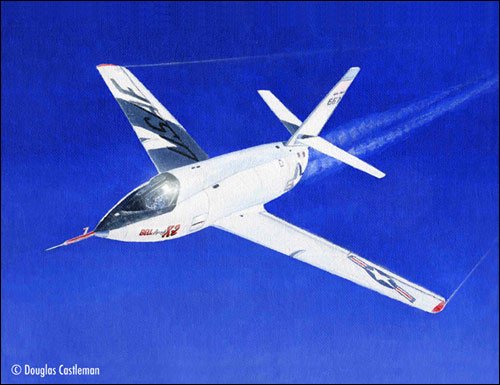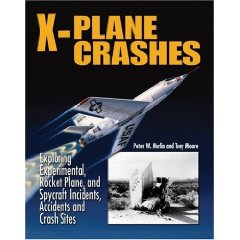 X-2 Plane Crashes
Interested in learning more about the X-2 crash site? Check out a new book, X-Plane Crashes: Exploring Experimental, Rocket Plane & Spycraft Incidents, Accidents & Crash Sites, by Peter Merlin and Tony Moore.
LIFE Magazine Archive X-2 Photos
LIFE magazine is in the process of digitizing it's collection of photos, including many that have never been published. Google has begun hosting a LIFE image search, which includes over 75 color X-2 program photos.
Many more prograns and text pilots are available through the search - which is only 20 percent of the entire collection.
X-2 (and X plane) Photos for Sale
Matt S. has sreprint photos for sale, including the X-2, X-15, XB-70, YB-49, D558-1/2 and more. Check out the details at his web site.
1/48 Fonderie Miniature X-2 Kit Review
Arcair.com has posted some photos of this kit built. I simply like the fact it has the dolly with it.
New X-2 1/72 Model Kit
HyperScale.com has a review of the Golden Age Hobby Kits GA 72-01 X-2 kit. It looks like something even I could build!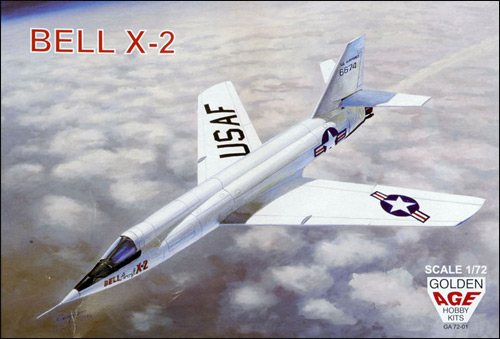 French BellX-2 Kit
Another 1/72 scale plastic model kit available, this time from France. I don't have many details on this, but some resources are: www.mach2.fr.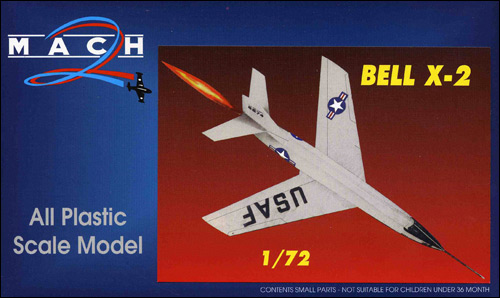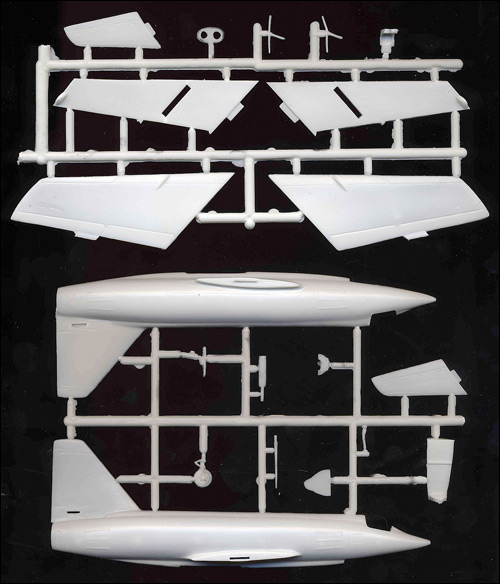 MACH 2 D-558 and X-2 DVD Now Available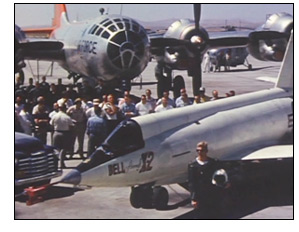 There isn't much X-2 footage to watch out on the market these days, but thanks to Rocket.aero's new DVD, Mach 2 D-558 and X-2, I can say that's different now.
This 227 minute DVD shares it's time with the D-558, but that's fine. You'll see plenty of X-2 here in both color and black & white. A good chunk of the footage doesn't have sound, but is accompanied by narration from James Duffy, DVD producer.
Highlights (my favorites) of the X-2 portion of the DVD include:
In color Templac walk-around.
First flight of 6674 - excellent footage of the lakebed landing spinout.
Color film of flight #5, beautiful shots from the chase plane.
First powered flight (#8).
Fatal final flight with extensive crash site footage (#20).
Flight 11 - flight crew getting into their gear, including Pete. Great shot of the entire X-2 team post flight.
Color film of the logistics behind the famous X-2 team photo.
Flight to the Future Bell/USAF featurette
Behind the scenes footage from Toward The Unknown
And much more...
If you are an X-2, or flight test fan, this DVD is a must.
For more information, and to order online, visit Rocket.aero.
I have to put in a plug here for another of Rocket.aero's DVD's on the BOMARC missile program. There's one piece of favorite footage of a BOMARC aiming for a B-17 drone at altitude. The missile misses barely and rockets past the side viewing camera. Rocket.aero continually digs up amazing film of aircraft/missiles that you just don't see everyday.
A Piece of X-2 Art
X plane fan Mike C. must have a really slick house decor - because he had the below reproduction nose art panel created. The custom panel was made by Gary Velasco, who specializes in vintage nose art panels for WWII aircraft.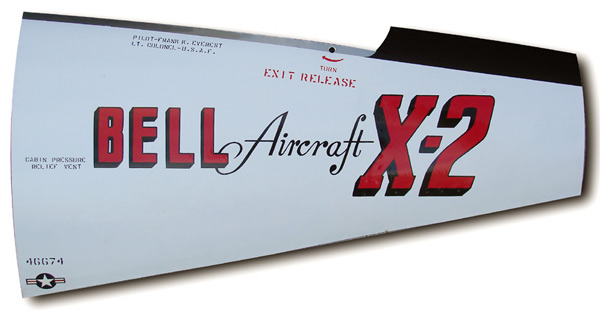 Aerospace Design: The Art of Engineering from NASA's Aeronautical Research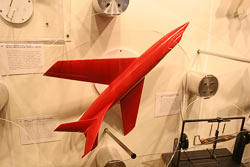 The EAA Aviation Center in Oshkosh, WI is currently hosting a display of NASA wind tunnel models through October. I had a chance to visit the display back in August, and of course, had to take a photo of the X-2 model they have on display.
Article: NASA EAA AirVenture Museum exhibit celebrates the art of flying with technology
News release
Cardboard Model X-2
Now this is cool. Think plastic models are a challenge? Vacuform just not your thing? How about a paper X-2? Yep, Billy L. is in the process of building one now. Check out his progress over on the Cardmodels.net forum.
Scalecraft Models
If you can't find (or afford) a Topping X-2 desk model, the next best thing is one of Scalecraft's models. In 1/32 scale, the mahogany model is nicely proportioned - not like some wood models. And I know...I have one sitting on my desk here. Check it out on their web site.
Michigan History magazine - Soaring Into Space With Iven Kincheloe
The Record Breakers
The December 2006 issue of Wings & Airpower has an article titled "The Record Breakers" on you guessed it, record breaking pilots & aircraft. Yep, it has X-2 mentioned, with photos.
Desert Wings
Edwards AFB's Desert Wings newspaper takes a look at the X-2's 50th anniversary in October 6, 2006 issue. View the article (Adobe Acrobat PDF file)
Kincheloe Anniversary Flight Covers
Celebrate the 50th anniversary of Kinch's altitude flights with some postal covers. The covers sport artwork, stamp & cancel designed by Philip Dockter. Contact him at:


X-2 Everest Anniversary Postal Covers

Gone but not forgotten, Pete Everest's 1956 speed record has been remembered in commemorative postal covers by Philip Dockter. The covers sport artwork, stamp & cancel designed by Philip. Sharp stuff. Interested? Contact him at:



---
Bell Aircraft Models
Glenn M. recently visited the Niagara Aerospace Museum in Niagara Falls, NY and was kind enough to email me some photos of Bell Aircraft models on display. Nice collection!

Click on a thumbnail to see a larger image
---
XKIT 1/48 X-2 Model
I recently got this 1/48 scale French X-2 resin model kit (for my birthday). I won't be building it anytime soon, but it's one of the nicer X-2 models I've seen. Click here for photos of the kit.
---
Iven Kincheloe Postal Cover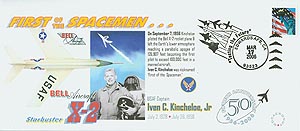 Philip Dockter has designed yet another slick, X-2 related postal cover, this time commemorating Capt. Kincheloe's September 7, 1956 flight.
---
Fastest Man Alive Postal Cover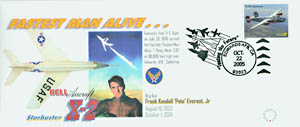 If you're into the X-2 or stamps, this one's for you. Philip Dockter has designed and is selling Fastest Man Alive, Pete Everest postal covers, cancelled at the Edwards AFB air show on Oct. 22. Covers are $15 each and include shipping. Contact him at:

---
A Navy X-2?

Ok, gotcha! It's actually a metal X-2 toy made by Asahitoy (and yes, it does say NAVY on the wings)!. Site fan Dan K. recently emailed me about this toy on ebay. Went for over $100. I've got one next to my desk here getting dusty, never thought it had much value! Image 1 | Image 2
---
Nice prints
Nick Spark has created some super slick photographic prints of aviation heroes Scott Crossfield, Joseph Kittinger, Buzz Aldrin, Bob Cardenas & Chuck Yeager. Check out his web site. Also of note, some of the prints are being sold to help the Pancho Barnes documentary project. That site has info and a five minute teaser clip for the documentary. Check it out, the clip includes interviews with Buzz Aldrin, Bob Hoover, Chuck Yeager and folks who worked at the Happy Bottom Riding Club.
---
New Edwards post office cancellation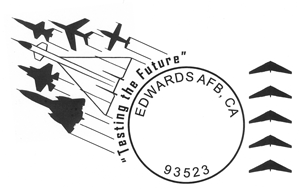 It's got my stamp of approval! Philip Dockter has designed a new cancellation stamp for the Edwards AFB post office. The PO hopes to roll it out at the air show in October. Someone send me a postcard!
---
Model airplanes aren't just for kids
Just learned about this 1/48 scale X-2 model from Dan K, made by Fonderie Miniature (FM) from France.
---
Chad Slattery's X Plane Model Collection
Chad dropped me a note about his X Plane model site. These aren't your typical dime-store plastic models, they're all manufacturers models in his collection. Check out his site here.
---
New! World X-Planes Magazine
The first issue of World X-Planes, a 32-page quarterly magazine, will be published very shortly and shipping will start by late January/early February. Check out what's in the first issue (hint, X-2) and subscription info by clicking here.
---
The X-Hunters Web Site
The X-Hunters Aerospace Archaeology Team now has a web site detailing their digs at various crash sites. Read about their visits to the final resting places for the X-2, NF-104, XF-11, and more!
www.thexhunters.com
---
Airpower magazine, January, 2005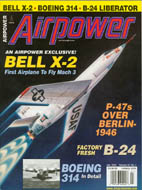 The latest issue of Airpower magazine has a great article on X-2 colorschemes. This huge 16 page article is full of color and black and white photos. Markings galore. After reading this article, I ran out and put Templac striping on my truck ;0)
---
Buy X-2 Stuff
Edward Williams has set up a Cafe Press store with misc X-2 items for sale (mousepads, hats, t-s, cutaway drawings, etc.) Check it out by clicking here. He's also working on a book which should be for sale soon at the same site.
---
1/144 Muroc Models X-2
There's a new X-2 resin model kit out there. What's neat is the decal sheet also includes the Templaq stripes. Check out a review of the kit here.
---
X-2 Postage Stamp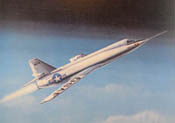 Help the effort to get an USPS X-2 postage stamp, write a letter! Click here for more info.
---
Richard E. "Dick" Day
X-2 project engineer Richard E. "Dick" Day passed away on July 4. Learn a bit about this aviation pioneer here..
---
LIFE Magazine 1956 Flashback
---
Adams Monument Dedication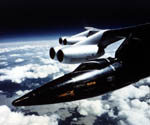 A monument was recently placed near the Mike Adams X-15 crash site.

Read up about the event over at XB-70.com.
---
X-2 Modelers Unite
Rainer S. from Austria dropped me a note on the 1/72 Alliance X-2 kit he recently built. He has an article (in German) and a bunch of photos available online - click here.
---
When Hollywood Met Edwards - Aircraft Monthly Magazine (Dec. 2003)
Hey rocket fans, there's another article out there now on movies and television shows filmed at Edwards AFB. This article covers your standards - The Right Stuff, Toward the Unknown, X-15 and more. Included are "in the movie" aircraft illustrations of the X-1, "Jet Pilot" T-33, Gilbert XF-120, X-15, X-2 and the psuedo D-558 II (Hawker Hunter) from "The Right Stuff".
---
January, 2004 Airpower Magazine - Civilian Test Pilots
Airpower Magazine has a nice article about civilian test pilots. Mentioned is Skip Ziegler and a rare photo of Ziegler, Everest and Stan Smith next to the nose of the X-2.
---
Edwards Showbiz Photos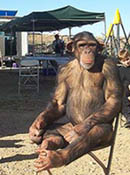 Rob G. sent over a web address for a bunch of downloadable photos from the Edwards AFB web site of celebrities at Edwards. Where else can you see Charles Bronson fly an X-15 or Edward G. in the O Club? Click here to visit the pics.
---
November, 2003 "Airpower" Magazine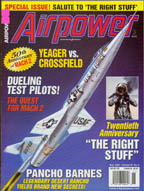 Excellent issue if you're into Edwards history. This issue covers Pancho Barnes, Yeager vs. Crossfield for Mach 2 and the 20th anniversary of the film "The Right Stuff".

Learn more about the magazine here
---
Kincheloe Monument, Cassopolis, Michigan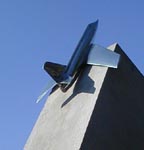 Dan Smith, Principal of Kincheloe Elementary School sent over some photos of a monument in Cassopolis to Iven Kincheloe. A 23" X-2 model made of K-monel sits at the top of the 12 foot monument. Dan notes the monument was set up in the 1960's and the model was donated by Bell.
Image 1 | Image 2

The other photo Dan sent over is of a Bell factory X-2 model on display in Grissom Hall at Purdue University.
---
Kincheloe Elementary School
Dan Smith, Principal of Kincheloe Elementary School in Dowagiac, Michigan sent me some photos of a Kinch display they have in the school.
Scratch built X-2

From Dan: "The second picture shows the whole Kincheloe display which I created in 1995 for the school's 25th anniversary. It hangs in the lobby of the school. Other models in the case were made from kits. Our most valued item is the book "Kincheloe's Dream," which is a biography of Kincheloe written and illustrated by children. Pete Everest is mentioned in it too. The book was copied onto a CD, difficult in '95 before PCs had CD burners readily available. The CD was flown aboard the Space Shuttle, STS 70, in July of 1995. The disk was returned to Kincheloe School by Astronaut Don Mc Monagle that fall." Display
---
Iven Kincheloe makes it on NPR
Iven Kincheloe was recently featured in a radio segment on NPR by Bob Edwards. Listen to the radio report on Capt. Kincheloe as well watch video of Walter Cronkite interviewing Capt. Kincheloe. Click here to go to the NPR site.
---
5,000 lbs of thrust
I was recently sent some photos of a Curtiss-Wright thrust chamber for the X-2 in the Science Museum in Roswell, New Mexico. Thanks Ed!
---
Jean "Skip" Ziegler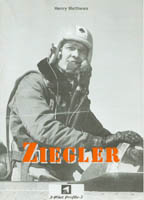 Author Henry Matthews has a new booklet available on Bell test pilot Skip Ziegler. The booklet includes a number of rare photos and details on his career in the military as wel as his work at Curtiss-Wright, North American and Bell Aircraft. Ziegler lost his life in May, 1953 when his X-2 exploded over Lake Ontario, still attached to the EB-50.

To purchase tis book, and other test related books, visit Henry's web site.
---
The Saga of the Bell X-2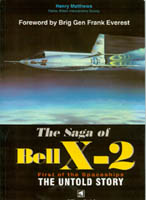 Also available from Henry Matthews is the second edition printing of his X-2 book. Among the updates are new X-2 photos from project Instrumentation Technician/Flight Test Engineer Bob Rohrer. ORder this book at his web site.
---
Bailout!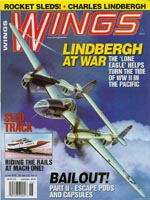 The June 2003 issue of Wings Magazine has an article on escape pods and capsules. Included are 2 pages on the X-2 including photos, XB-70 and B-58.

---
New Book Alert: Hypersonic: The Story of the North American X-15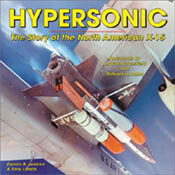 There is a new book out, written by Dennis R. Jenkins and Tony Landis on the X-15. Get that credit card out and pick up this awesome book at Amazon.com. Many rare photos in color and a ton of details. An X-15 photo scrapbook is also coming out in late summer 04.

---
"Review of the X-2"
Site fan Edward Williams has his stash of X-2 goodies also. Check out a Bell brochure on the X-2 he has scanned on his Web site

---
British Pathe Newsreels
I'll admit, newsreels are a bit before my time, but are good sources of historical film. Visit their site at britishpathe.com for free download or purchase. Search for "X-2", "Crossfield", or "Yeager" for famous test flights.

---
X-2 Crash Site Write Up
For those of you interested in aviation archaeology, check out XB-70.com and the article on the X-2 crash site - good reading and photos!

---
X-2 Markings 101
A month ago I received an email from loyal site visitor Don regarding something odd he noticed on Mike Machat's "First of the Spacemen" X-2 painting:

"Maybe I'm slow for having just noticed the error, but Machat's image of the X-2 has the wrong national insignia under the starboard (right) wing. From the web site photo, it appears to be a WWII USAAF insignia with no central red bar. I can't be the only one to have noticed this?!

Don, you're not slow :0) I passed along the question to Mike and here's the scoop:

"Thanks for your email and yes, that would be an obvious error if it wasn't indeed exactly the way the airplane looked on that flight. Here's the story:

After Flight #16, the last and fastest (Mach 2.87) flown by Pete Everest, the X-2's paint had blistered and burned quite badly from the thermal loads at those speeds. The airplane was repainted to get ready for the Kincheloe (altitude) and Apt (speed) flights, but the program was getting very rushed with the anticipated delivery to NACA in the Fall of 1956.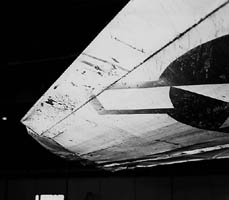 Many famous publicity shots (most are on your website) were then taken in August and early September showing the airplane with its gleaming new paint job, except for the black anti-glare panel which was still badly blistered. The aft fuselage was also left bare metal since engine heat damaged that area as well.
Since all of the ground shots were taken with the X-2 on its dolly, there was no need to paint details on the underside, and the red stripes for the lower right wing's national insignia were more than likely left off due to time constraints. Chase plane photos of both Kincheloe's Sept. 7 altitude flight (my painting) and Apt's Sept. 27th run show the lower national insignia missing the red bars. Final confirmation came from a detail study of the wreckage after Mel Apt's accident flight showing the lower right wing with the blue national insignia minus red bars."

Thanks to Tony Landis for the images.

---
Order this Book! This is as of June 17, 2002
"The Saga of Bell X-2: First of the Spaceships" is now available in a very limited print run.

X-Planes Book-4 by Henry Matthews
The Saga of Bell X-2:
132 pages, US$30
Contents: Origins and Purpose; General Description; The Initial NACA Contribution; Pilot Escape System; Early X-2 Development Work; The XLR-25 Rocket Engine; The Brief Career of X-2 46-675; The Project Continues; The Unpowered Flights of X-2 46-674; The First Powered Flights; The High Speed Flights; The High Altitude Flights; Last Flight; Epilogue; The X-2 Pilots; Iven C. Kincheloe Speaks; NACA X-2 Engineer Richard Day; Flight Test Reports; Bell Progress Reports; Chronology; NEW SECTION: four pages of photos from the Bob Rohrer collection.

Visit Henry's Web site for order info
---
---
If you know of any other current magazine articles, showings, etc. of the X-2, please email me, and I'll put it up on the site.
---
X-2 Home