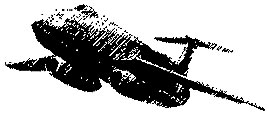 TTU Sightings
---
Sightings has moved! Please check the BellX-2.com Blog
The "spirit" of TTU is alive! Thanks to everyone for the emails asking about the movie, and most importantly if you can purchase it. However, if you have access to satellite TV, it is shown in a restored format there (sometimes). In the mean time, TTU has popped up in some places recently...
---
December 2003
Magazine: Aircraft Monthly
Edwards AFB. This article covers your standards - The Right Stuff, Toward the Unknown, X-15 and more. Included are "in the movie" aircraft illustrations of the X-1, "Jet Pilot" T-33, Gilbert XF-120, X-15, X-2 and the psuedo D-558 II (Hawker Hunter) from "The Right Stuff".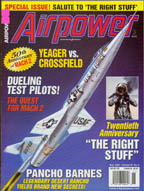 November 2003
Magazine: Airpower
This issue has some great photos and interviews related to the 20th anniversary of the film "The Right Stuff". See if you can also find the references to TTU scattered throughout this Edwards focused issue.





June 2003
Magazine: Life Magazine, 1956
This 1956 article is not new, but it is interesting nonetheless. For those of you who have seen Toward The Unknown, this story about Mel Apt saving a fellow pilot will sound familiar. Read it here.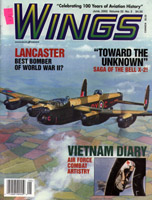 June 2002
Magazine: Wings - Article: Toward The Unknown, Saga of the Bell X-2!
By: Wayne Peterson
The June 2002 issue of Wings magazine includes a 12 page article on the film Toward The Unknown. Lots of beeeeuuutiful and unique photos grace this article by Wayne Peterson. Go out and buy a copy (or two or three in my case) - it is a MUST for any TTU fan. And a side note - Mike Machat is now the editor and printer for Wings/Airpower.




June 2002
Magazine: Flight Journal - Article: Aviation Movie Guide
By James H. Farmer
The June 2002 issue of Flight Journal Magazine has an article about the Best Aviation Films on Video, by James Farmer. Mr. Farmer is kind enough to mention that Toward The Unknown is one of many aviation films not avaialble on DVD or VHS (amen!).

Carrie's September 2001 Trip To Edwards
View some South Base photos I took at Edwards - includes a visit to a TTU site.

X-15 The NASA Mission Reports
Edited by Robert Godwin
I'm a bit late on this, but X plane fans must pick up a copy of this book, it's a best buy! Check it out - page 384 talks about the move "X-15" and "Toward the Unknown" - Check it out at Amazon.com

"First of the Spacemen" painting by Mike Machat
Read Mike's story on how Toward The Unknown started his interest in flight test, and his painting "First of the Spacemen", now in the Air and Space museum's permanent collection.

"The Golden Age of Flight Test" Wall Mural, Air Force Flight Test Center Museum, Edwards AFB
With the opening of the new Air Force Flight Test Center Museum at Edwards AFB, a wall mural by artist Mike Machat was unveiled. Titled "The Golden Age of Flight Test", this painting includes a hidden X-2 glide flight from "Toward The Unknown" - and other scenes from the movie.

Do Not Read ahead if you do not want to know what's hidden from TTU in the mural!!

Crash of the XF-92/"F-102A" at edge of lakebed from opening scene.
F-94s in formation with Linc's wingtip punching through Gen. Banner's drag chute.
H-19 helicopter approaching "Rocket Ridge" for the Congressman's tour.
Rocket engine test firing on 'Ridge - "Will someday carry man into outer space!"
Water brake on B-66 rocket sled ejection seat test at high-speed track.
Lincoln Bond turning final on his first X-2 glide flight.
Thunderbirds F-84Fs approaching Gen. Banner's parade from the Northeast.
ARDC Convair C-131 and parade formation on South Base ramp.
'Gilbert XF-120' and F-100 chase climbing towards you on takeoff.
Somewhat fictitious quote, "Oh Linc!", from Connie as he walks her home.

Thanks to Mike Machat for the list

Volume 14
Wings of Fame Publication
Industry of Prototypes: Martin XB-51
Lengthy write up on the XB-51, with many color photos. Includes a brief note on the use of the XB-51 in TTU, along with an image of Linc & Gen. Banner in front of the XF-120 (an image not on the site!). It can be purchased at their Web site

December 99
Magazine: Flight Journal - Article: Hollywood's Bomber Barons, The Screenplays of Beirne Lay
By James H. Farmer
Great article on Beirne Lay's Bomber movies, including TTU & the XB-51. Some nice photos & info on the filming of movies such as Twelve O'Clock High & Strategic Air Command. Pick up your issue today & take a look at Flight Journal's Web site!


Book: The Martin XB-51 (Air Force Legends Number 201)
By: Scott Libis
One page on the role of the XB-51 in the movie. Some nice pictures as well


Book: Convair B-36
Discusses scenes in the movie where the B-36 can be seen.


Winter 1997/98 Vol. 20, No. 4
Air Force Museum Foundation Friends Journal
In the article "Daddy of the Deltas" about the XF-92A, they mention how the plane was used in TTU as a F-102 for Gen. Banner's crash scene.
FYI: The XF-92 is being restored by the AF Museum


December 1997
FlyPast


The article "Valley of the Kings" discusses the hunt for X Planes, and mentions the fate of one of the Martin XB-51s which crashed at Biggs Field in Texas. Mentioned is how the XB-51 was used for its "aerobatic ability" in TTU and that played the Gilbert XF-120.


October 1996
Aviation Illustrated
So you think TTU is a good movie? Good enough to change your life like aviation artist Mike Machat? Yup, in the article "The Fiftieth Anniversary of Supersonic Flight" Mike admits it. "What an incredible extravaganza of X-planes that was!"

Wanna hear something real creepy...the article says Mach 3 Mel Apt lost his life in the X-2 Sep. 27, 1956. Lloyd Nolan died Sep. 27, 1986.


September 1993
Aviation
In "Light the Fuse and Go," Pete Everest talks about his life as a pilot. In addition is a cool picture of him and William Holden during filming of TTU.



---
TTU Home