---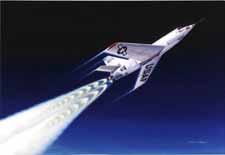 "First Of The Spacemen"
"So what made this movie [Toward The Unknown] such a cult classic? Was it the abundance of "real" footage of all those exotic airplanes and that incredible desert airbase in this era of computer generated special effects? (To my knowledge, not one INCH of that B/W opening sequence of "Space Cowboys" was filmed at Edwards!). The footage in TTU is so accurate, that chaseplane film from Everest's powered flights (made AFTER they filmed on location) was edited into the final cut before it was released. That F-94C sequence was actually flown also - no models! (except for that cheesy close- up of the tip tank snagging the drag chute). They even landed on the famous South Lakebed "Navajo Trail" to stay out of ED traffic when they filmed it. Great stuff!
So why would a ten-year-old kid who dreamed of just seeing a real jet someday, much less fly in one, walk out of that little movie theatre in Patchogue, Long Island after seeing TTU in glorious Technicolor with his Mom, and not be able to think about anything else but that stunning little rocket plane for the next couple of months?
Standing at the crash site with Tony Moore and Pete Merlin some forty years later was a very emotional and significant moment for me, as you could imagine. Later that night, while unloading the small metal fragments of X-2 skin I'd collected that afternoon, I noticed countless little flecks of aged white paint lining my car's trunk. I was going to vacuum them up when it suddenly hit me - those flecks of paint were the first to ever fly at 3 times the speed of sound and leave the earth's atmosphere!!!
I saved them all, and eventually mixed them in with the actual white oil paint I used to make "First Of The Spacemen", even using them to paint the bottom 'raceway' near the landing skid, which is where they came from on the actual airplane. I could never have sold that original, and when the Smithsonian asked for it, I felt very proper about saying "yes". (They will include that story in its description.)"
- Mike Machat
---
X-2 Home