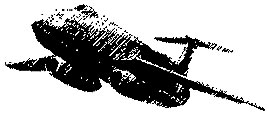 TTU Reviews
---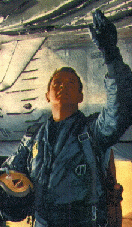 Time Magazine Oct. 8, 1956 "Toward The Unknown" [Warner], which attempts to tell the story of the Bell X-2, the Air Force's experimental rocket plane, will probably get a rocket boost at the box office from recent headlines. In July the X-2 set a speed record (1,900 MPH) for manned aircraft. Last month it set the altitude record: 126,000 ft. above sea level. Then it crashed in the desert.

Bill Holden, starring in his first independent picture, is the rocket jockey; and as if it is not hard enough to fly an airplane at 1,900 MPH, the script makes him fly it with a big load of guilt-edged insecurities riding inside his crash helmet. Holden is one of those who broke under Chinese Communist brainwashing and signed a germ-warfare confession. Back home, he tries to fly his way back into the heart of the girl (Virginia Leith), the confidence of the Air Force (Brigadier General Lloyd Nolan) and his own self-respect. The picture is sure to be exciting for taxpayers who like to see what they are getting their money."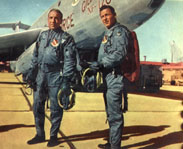 History of the Air Force Flight Test Center: Jan.-Jun. 1956
(Credit: AFFTC History Office)
"On 9 March 1956, two "first of a kind" formations highlighted the aerial show at the Air Force Flight Test Center which was filmed by Warner Brothers Pictures Corporation for use in "Toward The Unknown," a motion picture shot in part at the Air Force Flight Test Center.
For the first time, four F-100's, four F-101's, and four F-102's flew in formation together as they made three passes over the flight line. Shortly afterwards, the famed "Thunderbirds" of Luke Air Force Base, the United States Air Force's aerial acrobatic team, performed a series of acrobatic aerial stunts which included a new formation called "Toward The Unknown."
The air show climaxed three weeks of filming at the Air Force Flight Test Center by the Hollywood cast and crew. "Toward The Unknown" was the film story of test pilots and their work at the Air Force Flight Test Center. The film starred William Holden, Lloyd Nolan, and Virginia Leith."
---
TTU Home