---
Saturday 12 Aug 2000
MORE THAN TWICE THE DEPTH OF THE RUSSIAN SUBMARINE KURSK.

Sodus Bay, New York

Trip Five (all previous trips have been to reconnoiter area shoreline from Little Sodus to Oswego, NY with three "on-water" trials).

Numerous(10)-test trips were made in east end of Lake Ontario-1999-2000 400-450' depth tests conducted at 43.39 N 79.13 W.

Planning to retest in next three weeks. SEEKING lodging of some sort for a few days in a row...couple, three occasions at Sodus.

Weather always presents a challenge at this end of Lake Ontario. What a lovely phenomenon-"The Great Lakes Weather Furnace."

A few days on location would give a usable window to get to the 800' location and conduct tests.

Need several hours on the Lake with decent conditions. Day trips won't cut it. 200 miles, round trip.

Location of 800-820' depth (deepest point) is 43.30 N 77.00 W.

This was the first time in water there. Location of 800' depth is located about 15 miles due north offshore Sodus light. Because of weather, we were only able to get out 8.8 miles, over about 400' of water. This was not suitable for appropriate depth test to 800' for camera housing.

A datum point was established with GPS in Lake Ontario off Sodus as a reference for further tests and searches. Even with a relatively small boat (19'), we were able to stay a straight course on a precise north/south longitude for many minutes. I am pleased as this is a good thing.

Although no incandescent lighting has yet been tested (it has been built however) and wiring is incomplete, an infrared lighting test was to be conducted to the 400' mark with camera in housing. Due to the dangerous weather, I made the decision to not delay further our time on the water and returned to shore in time to cover the boat in the rain and lightning. Whew.

To err on the side of caution is a good thing!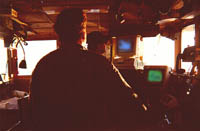 Top left clockwise;
Looking southeast at Chimney Bluffs storm approach, looking due south 8.8 miles to Sodus light, Sodus light on way out, gear loaded ready to leave dock.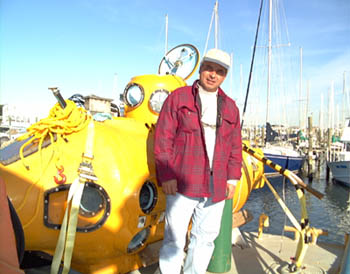 Lou and the Sub
---
X-2 Home